Choosing Jewellery According To The Neckline Of Your Dress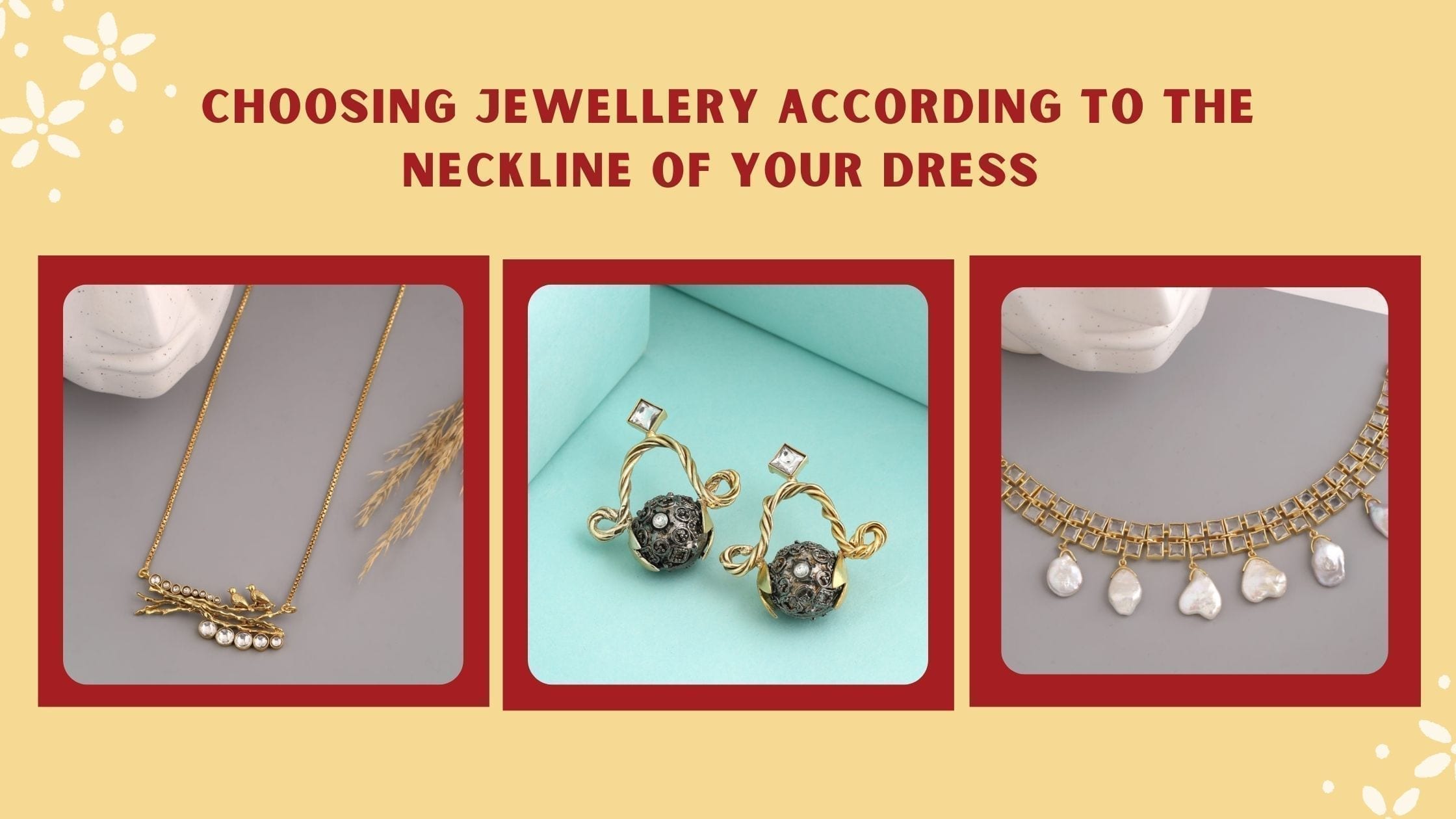 Women worldwide love to follow trends when it comes to fashion Jewellery and celebrity musings. But not all jewellery in your wardrobe turns out to be the perfect match for your dress. When you wear jewellery that doesn't compliment the neckline of your dress causes a big blunder. Choosing the perfect jewellery for your beautiful neckline is not an easy task; it requires basic tricks, helping you match the perfect jewellery of your choice.  
Here we have some useful tips and tricks that can help you decide your perfect jewellery according to distinctive dresses having different necklines. 
Turtle Neck Dress 
Turtle necks are tricky necklines when it comes to wearing fashion jewellery, especially necklaces. When winters come around, it is essential to keep your body warm instead of following the style quotient. But you can also style jewellery pieces wearing turtle neck sweaters or tops via following pairing tricks and tips. 
Try wearing danglers or long earrings, endowing a little sparkle to your monotonous lead. Apart from earrings, you can also wear a minimal chain pendant or a heavy opera length necklace to complement the neckline. This, in turn, helps you add some vibrancy and glam to your packed neckline. 
One Shoulder or Halter Neck Dress
This type of dress looks stunning without a necklace. If you want to enhance and augment the focus then opt for stud earrings that are minimal yet magnificient. You can also opt for a choker necklace to enhance the charm of your neck. 
V-Neck Dress 
It is easy to pair jewellery with a V-neck dress. V-neck sleek chain pendants or necklaces go well with a v-neck dress, amplifying the beauty bone. For a fuller or heavy look, pair hoops or danglers, defining the look in detail. 
Scoop Neck Dress 
Long necklaces look stunning on scoop neck dresses. They define your neck boldly while delineating a sparkling detail to it. Make sure of the necklace length; it should not hit below your bust line. Opt for the sterling silver long chain, long gemstone necklace, and pearl necklace with dangling tassels, proffering a look like none other. 
Strapless Neck Dress
A choker necklace looks gorgeous with a strapless dress, enhancing the beauty of your neckline. It lits up your beauty bone and shoulder. Be it a polki pearl choker, tantalizing gold neckpiece, colourful stone choker necklace, silver-studded choker necklace- they look fabulous when paired with a strapless dress proffering acute glam and class. 
Off-Shoulder Neck Dress
Unlike other neckline dresses, in an off-shoulder neckline, the case is different. Women wear off-shoulder tops and dresses to flaunt their beautiful neck area, enhancing the feminine look. So whenever you try to pair a necklace with an off-shoulder dress, try not to make it overboard or busy.
It looks splendid when paired with asymmetrical necklaces having distinctive shapes and patterns. You can also pair it with a minimal yet sleek designed stone-studded necklace, chain necklace with pendants, and silver studded asymmetrical necklace, embracing your neckline and outfit. 
Go creative and unique while pairing fine jewellery pieces with idiosyncratic neckline dresses. Try stacking all the necklaces that balance your look. Stand out in the crowd by adopting different styles that can quickly transform your dull-looking outfit into a stunning one. Follow the above-mentioned tips and tricks to complement every neckline dress you wear!