Essential Jewellery Styling Tips That Every Woman Needs To Know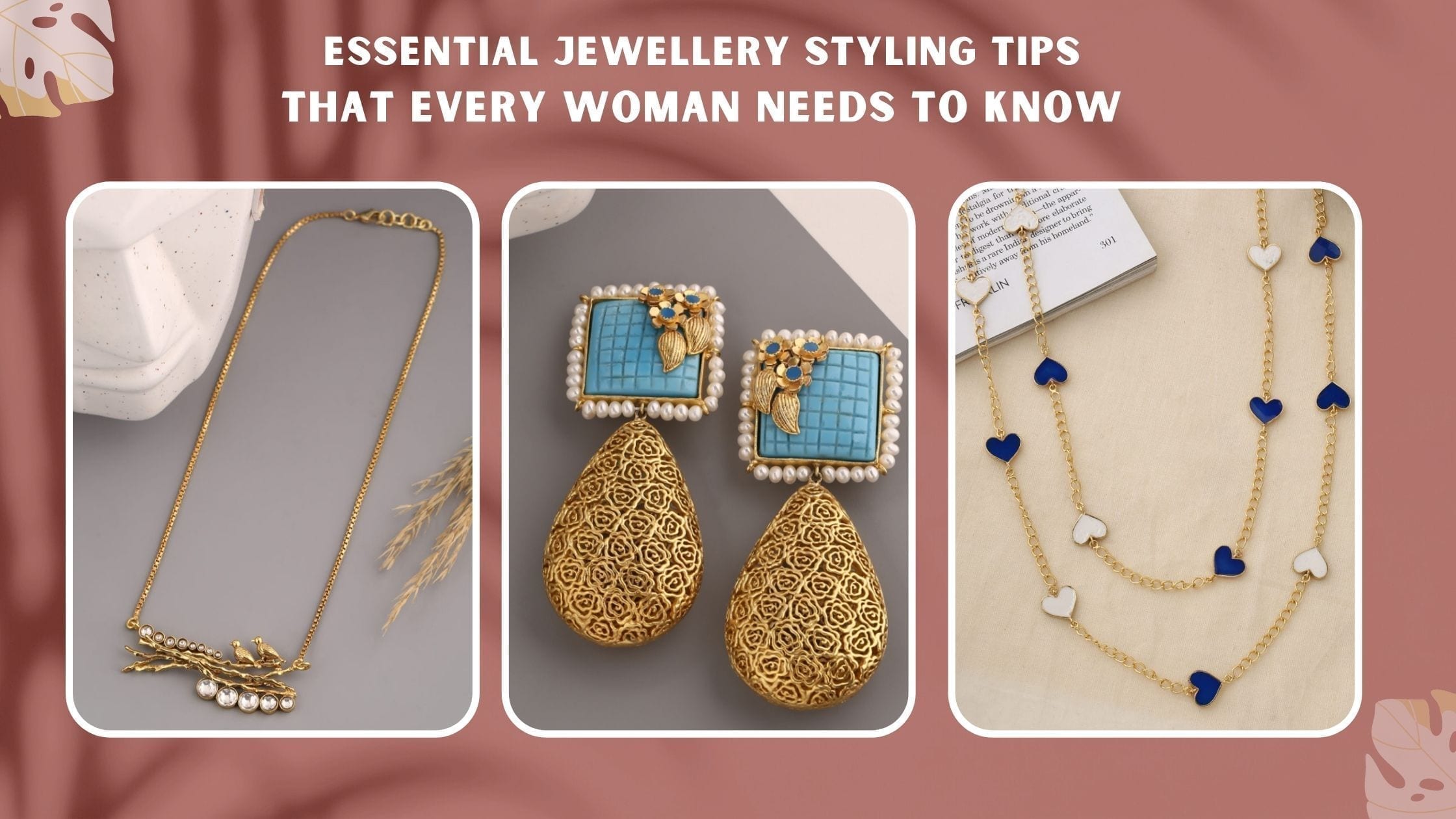 Jewellery is like a treasure for women who love to gather trendsetting pieces, complementing their wardrobe. But every time they head out for a party, they end up becoming extremely confused about pairing those distinctive jewellery pieces.
Despite having smitten features, every piece doesn't seem to match every outfit. And in a hurry, you go again wearing your favourite jewellery making your outfit look the same and boring. 
Don't fret! We all have been there.
 To help you avoid your beauty blunder, we have some amazing tips and tricks that can help you wear decent, fine, and costume jewellery that matches and complements your personality, fashion sense, and even your wardrobe. 
Try Stacking Different Jewellery 
When in doubt, try layering or stacking! You can pair different length necklaces proffering a fun and creative look like none other. Distinctive shapes, patterns, colours, and textures can work wonders for transforming a normal-looking outfit into a stunning one. You can try something unique by wearing sleek bangles and chain bracelets having different patterns. 
Stack minimal rings, layer chain necklaces, and experiment with earrings if you have multiple ear-piercing; Hit and Try different styles to create your own statement complementing outfit in a manner like none other. 
Know When To Stop 
Truly said, "if it's worth doing, it's worth overdoing." Everyone must know when to stop when it's going overboard. Although it's fun experimenting and creating something unique by layering distinctive tantalizing jewellery pieces, at the same time, you must know when it is too much. 
If you wear a pair of heavy danglers proffering enough glam, then maybe you can ditch the necklace making your outfit clunky or busy. A bold chain necklace with matching studs or hoops can work beautifully if you are getting ready for causal or office meetings. 
Pair your earrings according to the face shape 
To slay in everything you wear, your earring game must be strong! A simple hack is to wear an earring that complements your facial features and shape. This, in turn, helps brings attention to your outfit, hair, and face.
If you have long, thick hairs, try pairing long or oversized hoops while picking up small or medium-sized studs or danglers if you have short hairs. 
Check out How to choose earrings according to the face shape.
Dress or Jewellery- What's your FOCUS?
Whether it is your stunning dress or opulent jewellery-Decide your sole focus! If you want to steal the spotlight, try wearing something bold that makes you stand out from the crowd.
Pick light and minimal jewellery when you wear heavy dresses while pairing heavy bordered necklaces and clunky jewellery pieces with plain-looking dresses. 
Pair According to Occasions
Every occasion has a specific desideratum. And when it comes to paring jewellery according to the festive dresses, it becomes tough to decide jewellery that complements the whole look. 
A simple hack is to decide jewellery according to the dress's colour, pattern, and texture, helping individuals to pair their occasional dresses accordingly.
From minimal pendant for office and heavy necklace for a wedding to clunky earrings for the festive season and stacked rings for casual meetings- there is always a specific reason to pair jewellery that complements and slays. 
Sometimes it is better to ditch all the specific rules to look unique and try something creative that adorns the whole look. Dressing up should always be fun, and it must bring the best out of you. Follow the above-mentioned tips and tricks to avoid mistakes that can happen in a hurry while getting ready for a significant event or an occasion.