Store Your Fashion Jewellery Sets The Right Way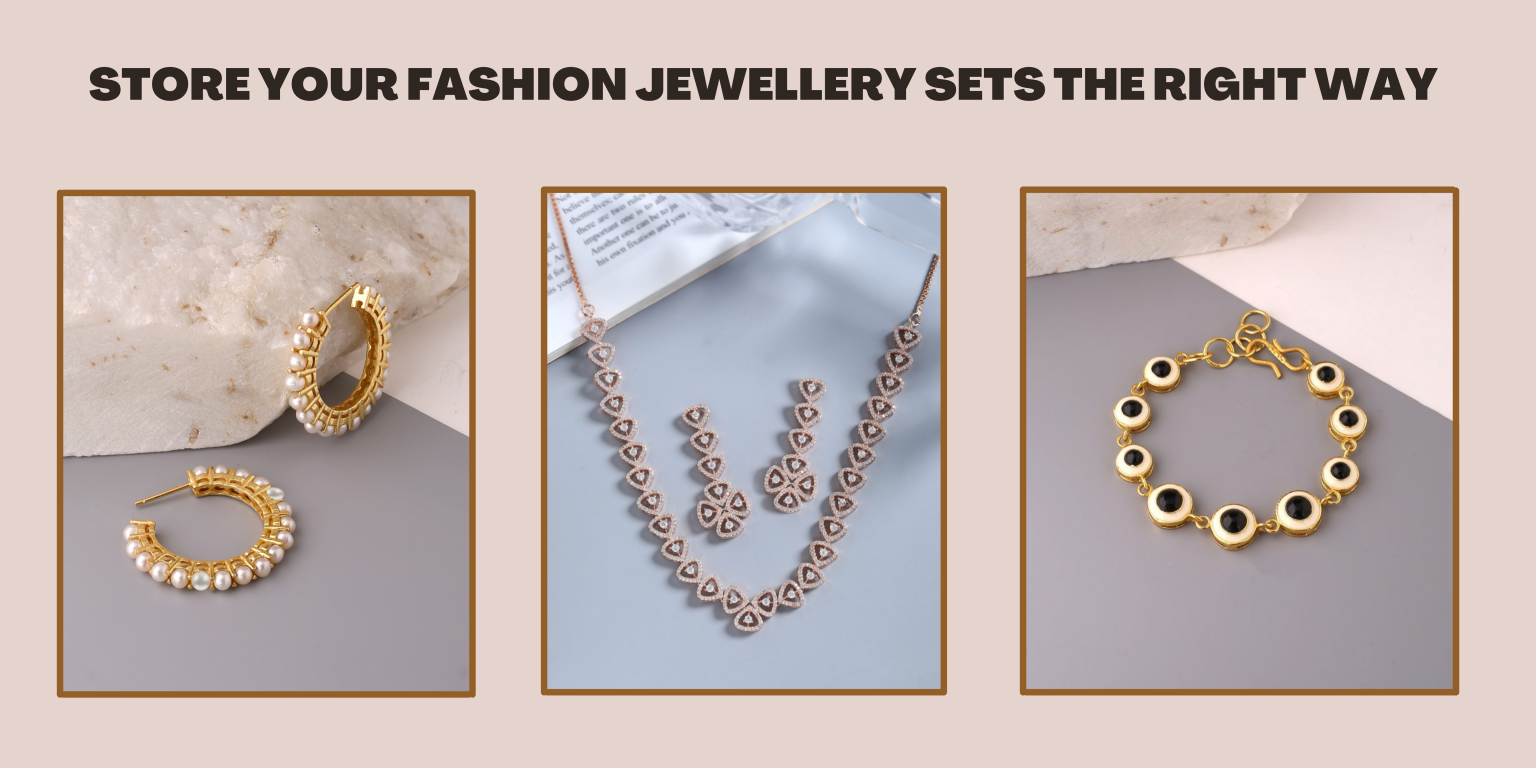 Rains and monsoon season brings joy to every mood, but they may not be particularly good for your fashion jewellery sets. They need maximum protection so that you can enjoy their longevity. Be it delicate silver, gold ornaments, or your oxidized jewellery all needed to be handled with care during this weather as moisture hampers the quality of different metal alloys and tarnishes their original lustre. You need to make sure that you are having maximum protection for your jewellery from humidity and moisture, both while storing and wearing it.
Store Your Fashion Jewellery Sets The Right Way
Moisture may end up damaging your precious ornaments, therefore, it is important to store them in a foolproof way. Here are some ways through which you can store your precious jewellery. 
Buy a storage box that has a soft interior but a hardcover and keep silica gel pouches in the box to get rid of excess moisture. You can also choose a box with separate sectional compartments to ensure that your ornaments are not scratched because of any kind of friction. 
You can also try to store each piece separately in a zip lock bag as that would ensure zero friction and a Vaccum environment. 
Taking Care of Your Fashion Jewellery Sets and Precious Ornaments. 
Every jewellery has different properties considering what it is made of. These aspects make it prone to the effects of the rainy season in a different way. We are here to help you know the extent of the effect on each jewellery piece and what you can do to protect it. 
Gold and Platinum – These are neutral metals and hence do not need a lot of care and attention. Although, a lot of exposure to dirt and dust especially in humid weather may ruin them and keep them dirty. You need to clean them thoroughly with warm soapy water and keep the lustre safe. 
Silver– Oxidised jewellery is highly susceptible to tarnishing, thereby turning them black. During monsoon, it can become prone to such corrosion. You need to take care of your silver jewellery during this season. Usage of toothpaste and a soft cotton cloth to clean it and avoiding water contact is the best way to protect them. You can also use silver dip to restore the shine and give a new look. 
Gemstones– Because of their delicateness and organic nature, stones like corals and pearls need utmost care and attention. Coming in direct contact with perfumes may cause permanent damage to them. Moreover, this jewellery may develop scratches from any tiny frictions. You need to take care of them adequately to ensure that they remain in their original form. 
Diamonds- They are the least prone to any damage but their continuous use may result in losing their shine. Clean your diamond earrings with a soft damped cloth or soapy water. 
We know your precious ornaments are too irresistible to not be worn outside, but follow these simple tips and tricks to keep your precious jewellery with the same shine and look and beautiful as ever.